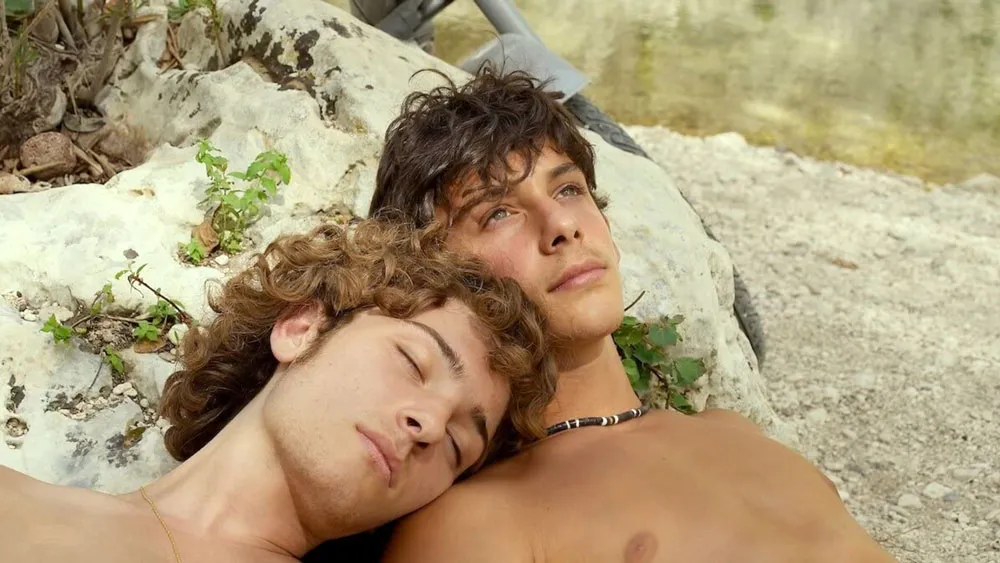 Reel Q Announces Lineup for 38th Season
The following is a press release from Reel Q:
Reel Q – Pittsburgh's annual LGBTQ+ film festival and sixth oldest LGBTQ+ film festival in the world – just released an iconic line-up of films and special events for the 2023 season, which runs October 6-15. The 38th annual festival opens with "Our Son," starring Pittsburgh icon Billy Porter as a gay father fighting his husband in a custody battle, and will be followed by an opening-night party at Row House Cinema and Bierport in Lawrenceville.
"The Reel Q team is thrilled to offer another unforgettable collection of queer stories at home on Pittsburgh's big screens," said T. J. Murphy, Reel Q's executive director. "With over 50 queer shorts and 17 in-person features there's something for every body, age, gender, and beyond."
Feature film highlights include: "Mutt," a thoughtful drama about being trans and Latinx (Oct. 7); "Lie With Me," likened to a "French Brokeback Mountain" with a generational twist (Oct. 7); "The Judgment," an Egyptian horror film set against the Pyramids of Giza, (Oct. 7); "Blue Jean" an award-winning festival favorite about a closeted female gym teacher living a double life in Margaret Thatcher's England (Oct. 8); "Glitter and Doom," a surreal, glittery musical romance set to the hits of the iconic, Grammy Award-winning Indigo Girls (Oct. 8).
This year's program also presents an assortment of family-friendly features:"Egghead and Twinkie," a colorful teen road movie (Oct. 8); "Big Boys," a teenage boy's unexpected crush turns a camping trip into a weekend of self-discovery (Oct. 14); "Before I Change My Mind," all the students wonder if new kid Robin is a boy or a girl (Oct. 14); and "Golden Delicious," a feel-good, coming-of-age film starring a confused Asian American high school senior opposite an out, gay basketball player (Oct.14).
In addition to the impressive selection of features, Reel Q will present the world premiere screening of "Carla" at the Andy Warhol Museum (Oct. 13). The film follows the journey of Pittsburgh singer Carla who found love and happiness after transitioning late in life, which inspired local photographer Mara Rago to make this heartfelt documentary. Afterwards, stay for a talkback with director Mara Rago, guests, and a performance by local vocalist Phat Man Dee.
For a special edition closing day program (Oct. 15), begin with a drag queen brunch hosted by SS Productions, featuring Luna Skye, Indi Skies, Alexandra Star and Andi Whorehol at Trace Brewing in Bloomfield (11:00am). Following brunch, Reel Q's special drag shuttle will take guests to Row House Cinema for the afternoon showing of "Queen Tut," which follows an Egyptian teenager from Cairo to Toronto, parachuted into the underground queer and drag nightlife.
That's just part of Reel Q's 2023 festival. There's also a diverse VIRTUAL line-up of LGBTQ+ short films: "His Shorts," "Her Shorts," "Queer Friendship," "Gender Fluid," and "Teen Dreams," compilations of shorts that will be available on-demand throughout the festival's full festival schedule.
Individual tickets and passes can be bought online at reelq.org or at the venue (for in-person screenings only). General Admission tickets: $10; discount rate: $7 (student ID or Access card holders). Diva Pass for all films: $150 ($210 value). Shorts Only includes all shorts: $50 ($70 value). Opening and kick-off party: $15 (no discounts).
Closing Brunch and film: $30. "Carla" screening: $13, includes admission to the Warhol museum.
Please check out our website at: www.reelq.org for more information on Reel Q's 38th season, movie listings and showtimes, trailers, panel discussions, and special events.
For more information please reach out at [email protected]
About Reel Q
Reel Q was created in 1985 to celebrate and showcase LGBTQ+ culture by fostering appreciation and visibility through film and other forms of media. And to provide a much-needed cultural outlet for the LGBTQ+ communities and allies to heighten the media vitality of Pittsburgh, and support queer artists specifically. Reel Q hosts events throughout the region year round. Reel Q is made possible because of the generous support of: The Heinz Endowments, The Pittsburgh Foundation, Greater Pittsburgh Arts Council, UPMC and UPMC Health Plan.
---