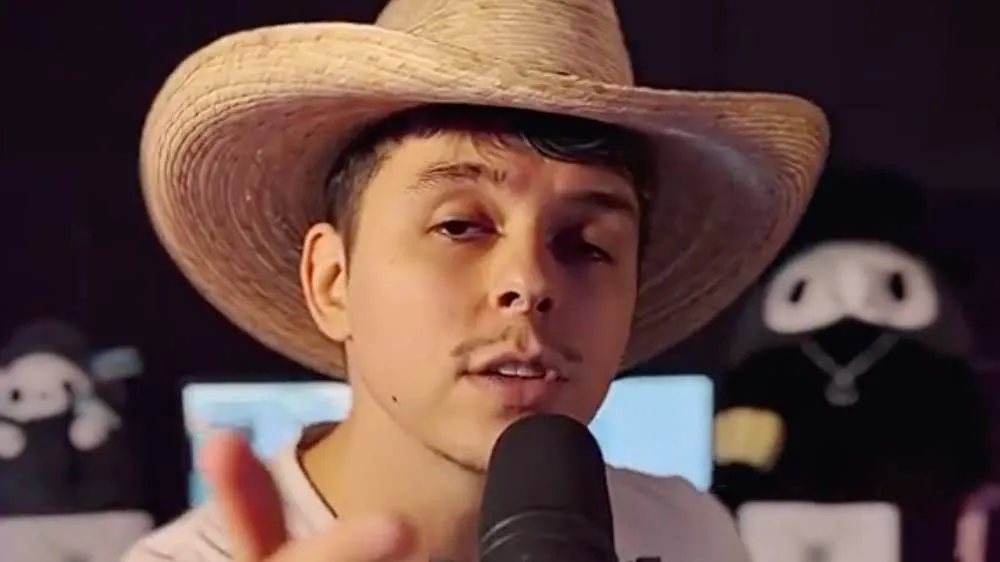 Watch: Dixon Dallas' New Gay Country Song Celebrates Rough Sex
Dixon Dallas - the gay country song-crooning alter-ego of Jake Hill - returned to TikTok with a blazing new anthem that's unmistakably queer, and up front about celebrating rough sex.
As he's done in previous TikTok posts where he's streamed teasers for his sexy gay country songs, Dallas walks into the recording studio, dons a cowboy hat with his back to the camera, and then snaps around, right into the song.
Hold on tight. The lyrics might blow you away:
"I need a man to lay me down
And give me something to feel,
Come pull me closer, bend me over,
I'm just here for the thrill,
No strings attached
I'll arch my back
And let you do what you want
Yeah, you can use me as you please
I'm on my knees..."
The references to anal sex give way to a description of erotic choking after the song's narrator "grab[s] a couple candles," and invites his lover to "grab me by the throat. Nothing' I can't handle - it's just a little choke."
To drive the point home, the song adds: "Don't be shy! I like it rough. It ain't enough until I'm screaming your name - don't make me beg unless you want it. You know I ain't ashamed."
In July, Dallas put his song "Good Lookin'" on TikTok, which also leaves little to the imagination:
"He's bouncing off my booty cheeks
I love the way he rides
I can hardly breathe
When he's pumping deep inside
I kiss him on his neck
And then he kisses on my bussy
Call him 'Daddy' while I holler
Man, that boy so damn good looking."
"Good Lookin'" was followed in August by another hot gay anthem, "F150," in which the singer compared lovemaking to a Ford pickup truck:
"Well, when we get to sipping' whiskey
And we get a little frisky
I climb up on him, ride him like a F-150."
Dallas has refused to say whether he's gay, and he has been accused of queerbaiting as a result. But the recording artist has simply shrugged such accusations aside.
"No, I haven't disclosed my sexuality," Dallas told Pride earlier this summer. "I could be gay. I could be straight. I could be bi. At the end of the day, I feel like it doesn't matter."
---
Kilian Melloy serves as EDGE Media Network's Associate Arts Editor and Staff Contributor. His professional memberships include the National Lesbian & Gay Journalists Association, the Boston Online Film Critics Association, The Gay and Lesbian Entertainment Critics Association, and the Boston Theater Critics Association's Elliot Norton Awards Committee.