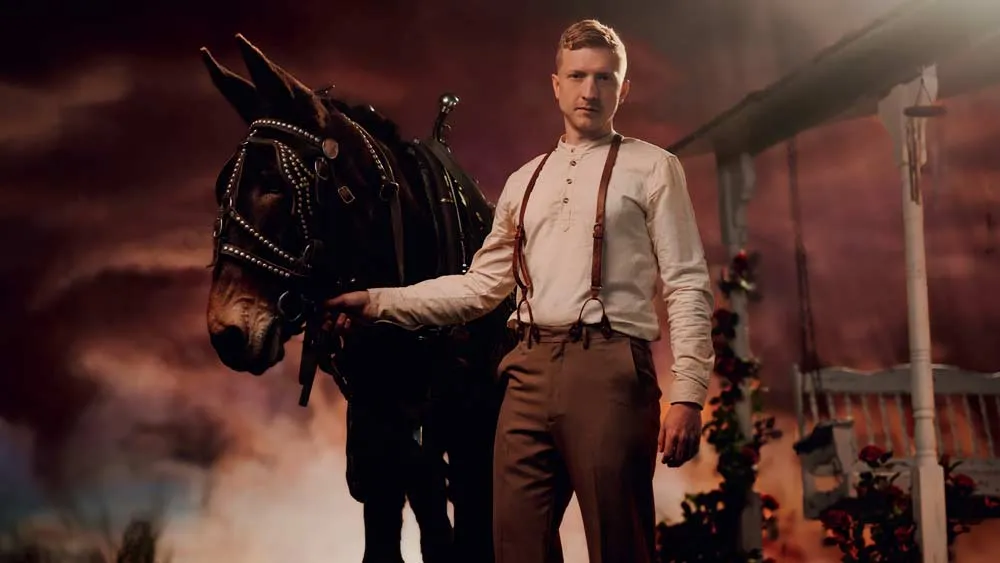 Review: Tyler Childers Shines on Album 'Rustin' in the Rain,' Especially in Gay Love Ballad
Scott Stroud
READ TIME: 2 MIN.
Tyler Childers says he came up with the concept for his latest album, "Rustin' in the Rain," by imagining song pitches to Elvis Presley. The result is a rangy, rollicking seven-song collection, out Friday – one that would no doubt please the King.
Childers isn't trying for rock 'n' roll Elvis here. Rather, he's appealing to Presley's well-known affinity for classic country, gospel and hold-nothing-back romantic balladry.
With a big assist from his band, the Food Stamps, Childers delivers classic country on "Phone Calls & Emails," slathering languid, Webb Pierce-style angst on 21st century communication.
On a brilliant cover of Kris Kristofferson 's "Help Me Make It Through the Night," Childers runs the wistful classic through the unmistakable filter of his eastern Kentucky accent ("Lay it soft against my skee-in"). It does what all the best covers do – inject new life into a well-worn sentiment. It's also a reminder that Childers has the stature to put his own imprint on a beloved song.
But it's on the dazzling "In Your Love" that Childers truly stands out.
"I will wait for you 'till the sun turns into ashes and bows down to the moon/I will wait for you," he begins to an elegant piano accompaniment. It's only up from there, as Childers ascends to a glorious mountaintop of a love song that's at least within range of Presley's most heart-wrenching balladry.
Unwilling to be hemmed in by stereotypes, Appalachian or otherwise, he worked with Kentucky poet laureate Silas House to produce a landmark video that casts "In Your Love" as a timeless affair between two men.
It's a revelation and also a statement, gently but firmly asserting the rightful place in the world of love without limits imposed by anyone else's moral code.
It works as a timeless love song; as fearless defiance of those who try to define what country can and can't be; and as a signature ballad from an original artist dedicated to finding new ways to outdo himself.
---