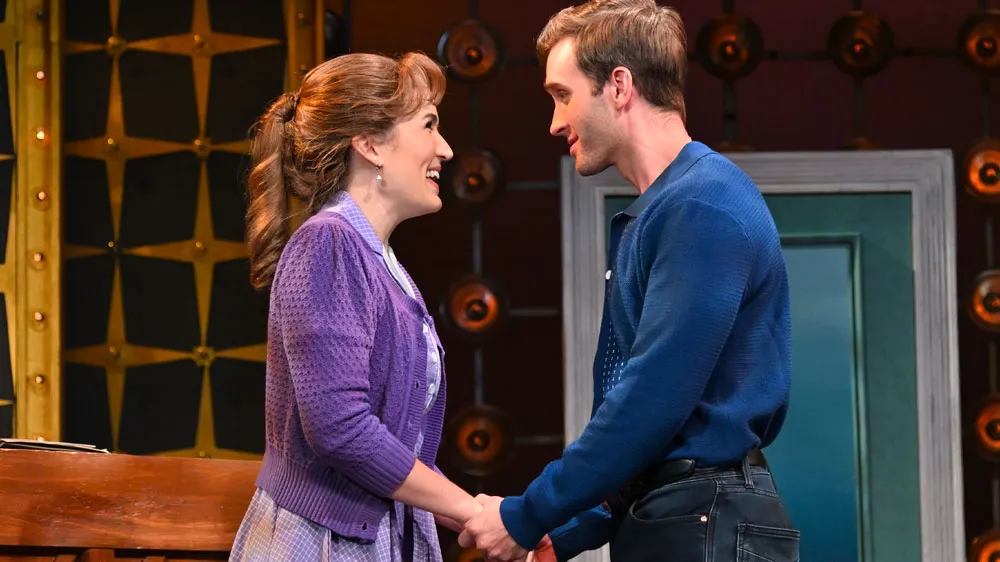 Carole King Musical 'Beautiful' Hits All the Right Notes at Theatre by the Sea
What better way to continue an epic 90th season than by presenting a Tony and Grammy award-winning musical? One that highlights a teenaged songwriter from Brooklyn who never wanted to sing to becoming an international superstar whose songs are so well known it's impossible to experience "Beautiful: The Carole King Musical" without wanting to sing along. Theatre by the Sea has another hit here with their latest offering.
Making its debut with this dazzling and often emotional journey of Carole King (Monet Sabel), whose mother just wanted her to be a teacher rather than head to New York City and pen songs for popular artists. Thankfully King ignored her mom and sold her first song on her first journey to meet Don Kirshner (Kevin Loreque'), a music publisher. Realizing her imitations as a lyricist, Carole joins forces (almost) with Cynthia Weil (Alaina Mills) but soon meets Gerry Goffin (Tim Quartier) and sparks fly not only because of his talent in the lyric department but also because she falls head over heels in love.
Weil eventually teams up with Barry Mann (Andrew Poston) and together both couples would write an amazing catalog of recognizable hits during their tenure working for Kirshner. But the heart of this musical is the fire of King herself; her determination to write songs and raise a family. But Goffin is the water to that fire, as his penchant for adultery and his inability to be happy with King's domestic dreams dictates.
Director and Choreographer Michael D. Jablonski makes his return to TBTS in this new role having previously appeared in "West Side Story" and "Joseph and the Amazing Technicolor Dreamcoat" in 2000. Jablonski's deft hand guides this cast of considerable talent, along with Kyle Dixon's always spectacular set design and lighting designer Katie Whittemore. Sabel makes her debut at this theater having understudied King's character in the closing company of the National Tour. Mills and Quartier also make their debuts here; Mills having been featured in the first national tour of "Beautiful" and Quartier is a current cast member of "Les Miserables" (also national tour.) Poston was last seen in "Kinky Boots" on Broadway. All of them are electric but Sabel steps up to this role in a heartfelt powerhouse performance.
Melanie Souza, a Rhode Island native, is returning to TBTS after appearing in last years' "Footloose" portraying Genie Klein, Carole's mother in a humorous performance. Mills' voice and fiery presence is palpable and Quartier looks and sounds amazing. The adorable Poston embodies Mann's hypochondriac tendencies, but his performance is all heart. "Beautiful" is a show with so much heart and emotional power packed into it, you will be talking about it for years to come. Theatre by the Sea has the right collection of talent to make this a most memorable night, don't miss a trip to the seaside to view this spectacular show.
"Beautiful: The Carole King Musical is playing through July 8 at Theatre By The Sea, 245 Cards Pond Road, Wakefield, RI 02879. For information or tickets call 401-782-8587 or visit www.theatrebythesea.com.
---