For the second time in a little over a month, a rainbow flag at the entrance to a New York City gay bar was set aflame.
In an update to the story of Alibi Lounge's Pride flags being burned, police have released new footage showing an individual lighting the flags on fire.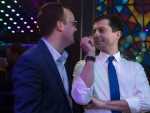 Pete Buttigieg drew a sold-out crowd to a fundraiser at an iconic West Hollywood gay bar, providing an intimate moment with the first Democratic White House contender who is a member of the LGBT community.
Divas, the Polk district bar and nightclub that had long been a safe haven for the transgender community, will be closing its doors on March 30. The bar will celebrate its many years of service to the community with a closing night party.
Bar patrons in New York's Greenwich Village were in the right place at the right time when Adele and Jennifer Lawrence showed up.
With LGBTQ bars closing down, It's easy to assume that we are in a time of decline. But here is a very different story from a Southern Californian city.
Gay YouTubers Mike and Leighton (Your Gay Travel Guides) head to San Francisco's Castro District to check out the nightlife.
Dutch DJ and travel vlogger Martijn heads to Singapore to discover the best clubs and lounges catering to the LGBTQ crowd.
It's important to understand that not all cities are the same and that they're not all following the same trajectory when it comes to gay bars.
Patrons of a famed nightclub in the German capital are being told to immediately visit a doctor to be checked for bacterial meningitis after they may have been exposed to the life-threatening illness on the dance floor.