Gay New Orleans: The Latest
South Asian film and TV actor and Obama advisor Kal Penn shares funny and touching tales of racism in Hollywood and misadventures in The White House, but turns shy in discussing his life as a gay man.
Matador Meggings' founder Valentine Aseyo describe his line of athleisure wear as "men's leggings on steroids" — find out why.
The inimitable Sandra Bernhard will once again grace the live stage at Joe's Pub in New York City for annual holiday run of shows Dec. 26th through 31st with her all new show Sandra Bernhard "Bern It Down".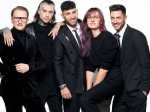 The streaming giant has found its Fab 5 for the German version of its hit show "Queer Eye."
EDGE contributor Frank J. Avella makes his choices for the best films of 2021.
An Idaho woman says her lawsuit challenging the state's ban on transgender athletes should continue moving through the court system because she's enrolled at Boise State University and plans to play soccer on the school's club team next spring.
In the touring production of "Cirque Dreams," actor/acrobat Julian Olivares plays the Nutcracker Prince. EDGE spoke to him about being part of a show he calls "amazing" and "great fun" to be part of.
"Jeffery & Cole Casserole" co-stars Jeffery Self, who is openly gay, and Cole Escola, who is non-binary, will star in "Bunny & Clyde" on HBO Max.
A former middle school principal says she encountered hostility and retaliation for putting up a Pride flag in the school cafeteria as a gesture of inclusivity. Now she's filed suit.
Sondheim brilliantly deployed musical theater to explore America's curious fascination with firearms and the pivotal role of assassinations in U.S. history.
Boston's St. Anthony Shrine starts a new tradition this December, displaying a portion of the AIDS Memorial Quilt.
Twitter reacts to Colton Underwood's Netflix show "Coming Out Colton," which chronicles his coming out journey.
Here's looking at you, allyship: In response to anti-LGBTQ+ remarks by North Carolina's Lt. Governor, a brewery there has launched a new beer. Cheers!
Vaccinating kids against COVID-19 also means reducing silent spread, since most have no or mild symptoms.

As Americans shop for the holidays, they will likely see a swarm of offers to get their gifts now but pay for them later in fixed monthly installments.
The new 2021 Bronco SUV pays homage to its predecessors and serves as an intriguing alternative to a well-known off-roading icon: The Jeep Wrangler.
EDGE turns up the heat this holiday season with five of our favorite culinary gifts.
Pfizer said Wednesday that a booster dose of its COVID-19 vaccine may protect against the new omicron variant even though the initial two doses appear significantly less effective.
South African travel bans in response to the omicron variant have hammered the country's safari business, already hard hit by the pandemic.
Sidetrack the Video Bar hosted their 10th Santa Speedo Run to benefit Center on Halsted, the LGBTQ+ community center. Registration began at noon and after a singalong of "Jingle Balls" participants ran a mile through Lakeview East.