Gay New Orleans: The Latest
Christmas is still a few weeks away, but Mariah Carey is already orchestrating her dinner menu.
Tom Daley had a question, and asked for answers on Instagram. But what his fans are commenting on are not his gymnastic prowess.
"Juno" star Elliot Page took to social media Tuesday to come out as transgender and now his wife Emma Portner is responding to the news.
Family and friends are grieving Chae'Meshia Simms, a transgender woman who was shot and killed in Richmond, Virginia, in her mother's rental car on Nov. 23, just after the end of Transgender Awareness Week.
From skateboarding to Fleetwood Mac to learning Cardi B's rump-shaking choreography, TikTok users got creative in a pandemic year with new songs, dances and memes in 60 seconds or less.
Canadian Prime Minister Justin Trudeau said Tuesday the ban on nonessential travel with the United States will not be lifted until COVID-19 is significantly more under control around the world.
People magazine has named George Clooney, Dr. Anthony Fauci, Selena Gomez and Regina King as the "2020 People of the Year."
Amid the resurgence, states have begun reopening field hospitals to handle an influx of patients that is pushing health care systems — and their workers — to the breaking point.
A 3 1/2-year ban on new local ordinances aimed at protecting LGBT rights in North Carolina expired Tuesday, prompting gay rights groups to urge the passage of such measures now.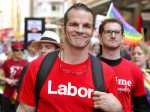 Two former pro athletes are united in their disappointment that a higher proportion of gay athletes haven't come out, and that homophobic language on the sporting fields is still rife.
British officials authorized a COVID-19 vaccine for emergency use on Wednesday, greenlighting the world's first shot against the virus that's backed by rigorous science and taking a major step toward eventually ending the pandemic.
A memorial documentary for the drag queen "Dirtwoman" reveals her impact on the local scene, and how much she is missed.
The Nasdaq stock exchange is seeking U.S. authority to require more diversity in the boardrooms of Nasdaq-listed companies, or for those companies to explain why they can not.
A pair of MIT professors have come up with a useful tool to evaluate indoor COVID-19 risks.
More than 3 million LGBT Americans are currently over 50, and that number is estimated to more than double over the next decade as Baby Boomers ride in on a rainbow-hued silver wave. And retirement presents many special issues for them.
Hyundai and Kia must pay $137 million in fines and safety improvements because they moved too slowly to recall over 1 million vehicles with engines that can fail.
EDGE searched high and low for our favorite libations of the season, unearthing an array of spirits (along with Instagram-worthy packaging) for the best liquor gifts of 2020.
Not since the HIV/AIDS pandemic of the 1990s have countries faced such a common health threat. This explains why UNAIDS has selected the theme "Global Solidarity, Shared Responsibility" for this year's World AIDS Day.
Texas surpassed 9,000 hospitalized coronavirus patients Tuesday as the pandemic's spread threatened the Big Bend region near the desert artist hub of Marfa, where tourists continued visiting and officials urged people to stay home.
Saturdays at London's Heaven Nightclub are getting a little happier - at least, the meals are. New COVID rules say bars must serve "substantial meals" with drinks, and McDonald's is partnering with the club.