1 thru 10 of 4234 Stories
Levi's has released its latest Pride collection, adopting "Use Your Voice!" as a rallying cry, stating that this year's collection is all about maximizing self-expression.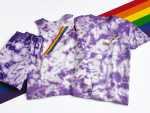 Dockers is launching its third annual Pride collection and making a donation to the Stonewall Community Foundation.
WWE wrestler and mixed martial artist. Fashion entrepreneur. LGBTQ role model. It seems like nothing is out of reach for Daria Berenato, the first openly gay female wrestler in WWE history.
The Maseratis, the Rolls-Royces and the Mercedes-Benzes were back on Rodeo Drive on Tuesday — along with a few high-end buyers — as America's most fashionable shopping street slowly got back to business.
There are so many more ways to express your style when it's warm and sunny outside.
The character Beverly Goldberg on ABC's hit comedy series "The Goldbergs" can elicit laughter before she even speaks, thanks to the over-the-top outfits that are a love letter to the mother of the show's creator and to 1980s fashion.
Popular restaurant chain, Bonchon, has launched a 'Hearts & Soles' campaign in support of hospitality industry nonprofit National Restaurant Association Educational Foundation (NRAEF) and their Restaurant Employee Relief Fund (RERF).
Rarely used in Latin America outside hospitals before the coronavirus pandemic, face masks are now compulsory for subway riders, supermarket shoppers and even joggers in some countries — and they're becoming a colorful part of the region's daily life.
The owner of J.Crew is filing for Chapter 11 bankruptcy, two months after the first person in New York tested positive for COVID-19.
While fashion houses and stores remain dark, the out of work acknowledge the challenges ahead but still hope they can reinvent themselves as the fashion world contracts further and shoppers may look to stay closer to home.
1 thru 10 of 4234 Stories