Fitness bands take up very little space at home, which make them the ideal piece of equipment to add resistance to your strength-training workout.
Have you decided a 5K or marathon is in your future? Or are you just trying to burn through some of the stress of a pandemic world? In either case, if you're new to running it's important to begin your new exercise routine with care.
No equipment needed for Rowan Row's ultimate oblique workout. Just remember, just watching won't get you a six-pack!
With only a five-minute commitment, there's no excuse to avoid your ab workout today, courtesy of A Gentlemen's Guide.
Fitness expert Greg O'Gallagher guides us through a detailed at-home workout with a few historical bodybuilding anecdotes for good measure.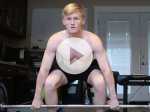 Cole Baker tackled 300 reps of six different exercises. Can you handle it, too?
There are many legitimate concerns about how gyms and fitness studios can safely reopen without furthering the spread. But infectious disease experts say risk can be greatly mitigated.
Rowan Row's latest workout uses common items found at home to add weight or resistance to common exercises. No excuses!
Lacrosse player Alex Aust takes us through a 15-minute core circuit workout that you can do from anywhere — no equipment needed.
Mobility is an important component of overall health and fitness, but it also gives you the opportunity to help you recover from other workouts.