Frameline's mission is to change the world through the power of queer cinema. As a media arts nonprofit, Frameline's integrated programs connect filmmakers and audiences in San Francisco and around the globe. Frameline provides critical funding for emerging LGBTQ+ filmmakers, reaches hundreds of thousands with a collection of over 250 films distributed worldwide, inspires thousands of students in schools across the nation with free films and curricula through Youth in Motion, and creates an international stage for the world's best LGBTQ+ film through the San Francisco International LGBTQ+ Film Festival and additional year-round screenings and cinematic events. Learn more at www.frameline.org
François Ozon's film "Summer of '85" will draw comparisons to "Call Me By Your Name," and not without reason - but it's very much its own movie, and it's of a piece with Ozon's oeuvre.
This film about a gay men who marries to meet his religious family's religious expectations under-delivers on its dramatic possibilities and plods to a predictable destination.
This dour story has layers of meaning just under the surface.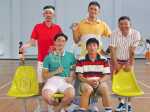 It's a great title. It's also one of the best films I've seen on the festival circuit in a very long time.
Director Yana Ugrekelidze's documentary "Instructions for Survival" follows Sasha and his wife Mari as they contend with extreme anti-LGBTQ sentiment in the country of Georgia.
This new documentary is a consummate dance film about art as witness, and its vital role to art, culture and humanity.
Writer-director Marion Hill lays bare the anguish and inspiration of love with this polyamorous love story.
Jim Parsons and Zachary Quinto provide the voices that bring Truman Capote and Tennessee Williams to life in Lisa Immordino Vreeland's documentary "Truman & Tennessee: An Intimate Conversation."
Frameline announced the full program for Frameline45 — the world's largest LGBTQ+ film festival — taking place Thursday, June 10 through Sunday, June 27, 2021.