Review: Resonant and Still Timely, New Blu-ray of 'Hair' Brings the Goods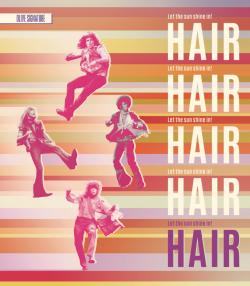 In a career that spanned five decades (beginning in 1960 in his homeland — then Czechoslovakia), Milos Forman only directed 12 narrative feature films. But among those 12 were a handful of recognized classics and a couple of gems that weren't celebrated in their time, but deserve a revisit and reevaluation.
Forman, died in 2018, won two directing Oscars in his lifetime: One for "One Flew Over the Cuckoo's Nest" (1975) and the other for "Amadeus" (1984). He was nominated one other time, justly, for the brilliant and egregiously overlooked dark comedy, "The People vs. Larry Flynt" (1996). And while "Cuckoo's Nest" stands as his greatest achievement, the two films he made between his two Oscar-sweeping achievements stand as fascinating, formidable cinematic efforts that were tremendously under-appreciated in their time: "Ragtime" (1981) and "Hair" (1979).
Olive Films, with their Signature series, have done justice to Forman's keen, immensely enjoyable and all-too-timely-all-over-again musical, "Hair." The irony astonishes, because many critics who dismissed the film back in 1979 did so because they saw the film as dated and past the time when it might have been relevant. After all, the Vietnam War was over, so there would be no more foreign wars that the U.S. would get entangled in. And the counterculture was over, too, so there would be no reason for a new generation to rise up and take to the streets in protest. Oh, and Carter was in the White House, so there was a president in the Oval Office that could be trusted; ergo there would be no more abuse of executive power. To quote Peter Allen, "Everything old is new again..."
The basic plot of the cine-version of "Hair" is set mostly in NYC and centers on a U.S. Army enlistee wannabe, Claude Hooper Bukowski (John Savage, bouncing back and forth from "Deer Hunter" shooting), who stumbles upon a group of free-loving hippies in Central Park led by the exuberant George Burger (Treat Williams, killing it in his first major screen role) and his trio of friends, Jeannie (Annie Golden), Hud (Dorsey Wright), and Woof (Don Dacus, in his only screen performance). Claude crushes on debutante Sheila (Beverly D'Angelo) while she rides a horse through the park.
The rest of the film is about the pursuit of Sheila, Claude's enlisting in the Army, the gaggle tripping on LSD, and a road trip to Nevada to say goodbye to Claude. Toss Cheryl Barnes into the mix as Hud's heartbroken fiancé (who ends up tagging along) and add a bunch of ebullient, yet stinging, musical numbers, and you have the bones of this adaptation.
The original groundbreaking musical, created by Gerome Ragni, James Rado (lyrics), and Galt MacDermot (music), bowed off-Broadway in 1967 and debuted on Broadway in 1968, running for 1,750 performances and spawning countless revivals worldwide throughout the decades that followed, with songs that became Top 10 hits and were recorded by the best artists in the business (including Barbra Streisand, Shirley Bassey, Diana Ross, and Petula Clark).
The film narrative deviated quite a bit from the stage show (the creators were not at all happy with the movie). Some of the most notable changes were Claude's character morphing from NYC hippie into Oklahoma bumpkin. Sheila went from proud feminist who loves both Burger and Claude to the wealthy socialite whom Claude crushes on. The twist ending was created specifically for the film (by screenwriter Michael Weller). Also, many of the original songs from the show were altered for the film, or omitted from the final cut. Finally, the hippies themselves were less a part of the peace movement than a group of lovable misfits.
Forman, Weller, and team also cleaned "Hair" up a bit too much (probably to get a PG rating). The nudity is reduced to two quick shots of Treat Williams's (very nice) butt and Beverly D'Angelo topless. Onstage, the nudity was optional for each cast member during the darkly lit "Where Do I Go?" number, but many opted to remove their clothes.
Beyond the nudity, the most upsetting omission, for me, is the Claude/Burger kiss, which began as a three-way embrace with Sheila in the stage production (and is in the original published book of the musical). This basically reduces the gay content to a few scant homoerotic moments.
Dismissed by some as merely a time capsule piece, the film adaptation of "Hair," seen today, proves to be an incredibly relevant and resonant work as well as an immensely entertaining one.
But even with all these alterations...
The film captures the joyous hippie movement and, most importantly, their anti-war, pro-love stance. And thanks to the creatives, choreographer Twyla Tharp and a truly gifted cast of (then) newcomers and novices, the musical number soar to mostly dizzying heights, especially a buoyant, "I Got Life," the hilarious "White Boys/Black Boys," "Good Morning Starshine," and "The Flesh Failures/Let the Sun Shine in."
Among the many performance highlights is Barnes' delivery of "Easy to Be Hard." It's a showstopper moment, and one wonders what became of the gifted Barnes. An internet rabbit-hole search for Barnes provides little answers but some fascinating tidbits, like the fact that she almost opened in the original production of "Dreamgirls" on Broadway as Effie!!!
In addition to outstanding music and production values, the script is mostly keen and quite intelligent. The film loses some steam during the LSD haze sequences, but the dynamic Williams and ensemble always bring things back to zestful life.
The Blu-ray has been cleaned up significantly since the 2011 no-frills release, making it easily a must-have for fans. The newly restored visuals give the film a fresh look, and the audio has also been vastly improved.
The Special Features are awesome, and are highlighted by a 30-minute doc, "The Tribe Remembers," featuring most of the principle cast (actors Beverly D'Angelo, Don Dacus, Ellen Foley, Annie Golden, John Savage, and Dorsey Wright) reminiscing. It's a rare treat to see so many cast members in a retrospect doc — and speaking of Treat, while he isn't featured on camera, he and the film's Assistant Director, Michael Hausman, do provide Audio Commentary. A warning: There are super-long stretches where neither commentator speaks. But Williams does say, "I think it's the best movie I've ever been in," and listening to him sing along with "Good Morning Starshine" is, well, a real treat! We also learn that the crowd seen at the end of the movie was there for a Bonnie Raitt concert.
Three more new featurettes, "Making Chance Work: Choreographing Hair" with choreographer Twyla Tharp (12 min.), "Cutting Hair" with editors Lynzee Klingman and Stanley Warnow (20 min.), and "HairStyle" with production designer Stuart Wurtzel (16 min.) provide engaging insight. And the 24-minute "Artist, Teacher, Mentor: Remembering Milos Forman" with director James Mangold allows Mangold to wax about his mentor Forman (and speak a bit too much about himself). There is also an essay by critic Sheila O'Malle on the disc.
Dismissed by some as merely a time capsule piece, the film adaptation of "Hair," seen today, proves to be an incredibly relevant and resonant work as well as an immensely entertaining one.

"Hair"
Olive Signature Blu-ray
$39.95
https://olivefilms.com/product/hair-olive-signature-blu-ray/

Frank J. Avella is a film and theatre journalist and is thrilled to be writing for EDGE. He is also a proud Dramatists Guild member and a recipient of a 2018 Bogliasco Foundation Fellowship. He was awarded a 2015 Fellowship Award from the NJ State Council on the Arts, the 2016 Helene Wurlitzer Residency Grant and the Chesley/Bumbalo Foundation Playwright Award for his play Consent, which was also a 2012 semifinalist for the O'Neill. His play, Vatican Falls, took part in the 2017 Planet Connections Festivity and Frank was nominated for Outstanding Playwriting. Lured was a semifinalist for the 2018 O'Neill and received a 2018 Arch and Bruce Brown Foundation Grant. Lured will premiere in 2018 in NYC and 2019 in Rome, Italy. LuredThePlay.com
Comments on Facebook