1 thru 10 of 3226 Stories
A Russian social media influencer, often criticized for his gay posts, was found murdered in St. Petersburg, Russia.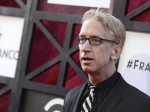 Comedian Andy Dick has filed a lawsuit in New Orleans against the man who punched him last year outside a French Quarter nightclub.
Georgia police are investigating whether a former WWE wrestler's claims on Facebook that he "made a man disappear" constitute a confession about murdering a gay co-worker as a teenager.
A 34-year-old transgender woman of color was stabbed and killed on July 28 at a vigil in Portland, Oregon, that was being held for another victim of homicide.
A man accused of 2017 killing of a transgender teen whose body was set on fire in southwest Missouri told law enforcement officers that he tried to make the death quick and painless, a prosecutor said in an opening statement Monday.
A suspect in the assault on a Boston-area gay man in his own front yard has been arraigned on hate crime and other charges, and is scheduled for a dangerousness hearing later this week.
A trial is set to start Monday for a man charged in the 2017 killing of a transgender teen whose eyes were gouged out and whose body was set on fire in southwest Missouri.
A British man, a Florida man and a Florida teen were identified by authorities Friday as the hackers who earlier this month took over Twitter accounts of prominent politicians, celebrities and technology moguls.
A Canadian man says that a gang of seven men surrounded him at his campsite and then beat him unconscious while hurling anti-gay slurs and accusations that he was a "pedophile."
Last month a man from the Boston suburb of Taunton was attacked for displaying a LGBTQ flag. His assailant was charged this week.
1 thru 10 of 3226 Stories