Gay New Orleans: The Latest
A few weeks after nationwide protests erupted over the police killing of George Floyd, Julie Muller looked for something positive she could contribute to the movement from her Houston home.
Gov. Gavin Newsom signed a law on Saturday requiring California to house transgender inmates in prisons based on their gender identity — but only if the state does not have "management or security concerns."
Some notable quotes from Supreme Court nominee Amy Coney Barrett, a former Notre Dame law professor and current judge on the Chicago-based 7th U.S. Circuit Court of Appeals.
Despite an overall decrease in HIV infection rates, the rates for Hispanic/Latino men who have sex with men are more than four times that of white males. EDGE finds out why.
September 27 is National Gay Men's HIV/Awareness Day, which focuses on the disproportionate impact of HIV on gay and bisexual men in the United States — and what we can do in response.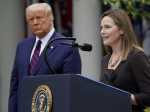 President Donald Trump nominated Judge Amy Coney Barrett to the Supreme Court on Saturday, capping a dramatic reshaping of the federal judiciary that will resonate for a generation and that he hopes will provide a needed boost to his reelection effort.
Though Amy Coney Barrett is the expected replacement for Justice Ruth Bader Ginsburg, she is more aptly described as heir to another departed Supreme Court justice: conservative hero Antonin Scalia.
After teasing fans earlier this month, the new "RuPaul's Drag Race" spinoff show "RuPaul's Drag Race: Las Vegas Review" finally aired the passionate kiss between stars Kameron Michaels and Vanessa Vanjie Mateo.
A German politician is under fire for equating homosexuality with pedophilia.
Elizabeth Neumann wrestled with the decision for weeks. She worried about the backlash, the impact it would have on her career, potential threats to her family.
President Donald Trump's campaign has grown increasingly focused on making inroads in Pennsylvania to offset potential vulnerabilities in other battlegrounds.
Betsy DeVos' nephew, who is married to Kathie Lee Gifford's daughter, appeared on "Family Feud" this week but is going viral on Twitter for a different reason.
With the movie industry in the doldrums due to the pandemic, a Texas-based movie theater chain has come up with a novel idea to bring people back to the theaters.

Unicode recently announced Emoji 13.1, a series of 217 new emoji to be released in 2021, including new LGBTQ-related emoticons.
"He doesn't want to crush the virus. He wants to crush the Affordable Care Act," says House Speaker Nancy Pelosi of President Trump. Will his wish come true with a shift in the Supreme Court?
You've probably heard the phrase "your mileage may vary" with regard to how your fuel economy compares to the EPA estimate. Edmunds has found, however, that the variance can be even greater with an EV.
According to one expert, recipes from the 1960s and '70s like chicken Kiev, chicken a la king, cheese fondue and salmon patties have become more popular.
A new national survey from The Trevor Project reveals alarming statistics regarding mental health and suicide rates of LGBTQ youth. Does it get better? It depends on who you ask.
For people around the world, the coronavirus has caused distressing separations and delayed homecomings. But the situation for a group of 25 residents from remote Easter Island stands out.

The 30th Anniversary of the world-renowned Black & Blue LGBTQ Festival and the 3rd edition of the Carnaval des Couleurs of Montreal are postponed to October 2021.