Gay New Orleans: The Latest
Arlington County has indicated it will set out more concrete rules surrounding the rights and protections of students based on gender identity.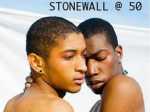 To mark the 50th anniversary of Stonewall, Drexel University presents an exhibit of 60 Philadelphia-based LGBTQ artists in celebration of the event. EDGE spoke to curators Janus Ourma & David Acosta about the event.
FX has announced when fans can expect the ninth season of "American Horror Story," subtitled "1984."
Montana's House speaker and other Republican lawmakers are criticizing Democratic Gov. Steve Bullock for flying the gay pride rainbow flag instead of the state flag over the weekend.
Tourism in a small Virginia town has suffered little in the year since The Red Hen restaurant famously refused to serve President Donald Trump's spokeswoman, Sarah Huckabee Sanders.
The American Psychoanalytic Association (APsaA) has apologized publicly for its previous classification of homosexuality as a mental illness, saying its mistakes contributed to discrimination and trauma.
PrideFest took over Boystown in Chicago for two days on June 22nd and 23rd, leading up to the Pride parade the following weekend. Vendor booths, live music and unpredictable weather were all part of the rainbow of fun.
Watch Tan France from "Queer Eye" give John Mulaney a makeover attempting to make him more "fuckable."
As opioid addiction and deadly overdoses escalated into an epidemic across the U.S., thousands of surgeons continued to hand out far more pills than needed for postoperative pain relief.
Residents of the Coquina Key Condominiums, where Robin Chipman lives in St. Petersburg, Florida, are allowed to put up flags in support of their favorite sports teams... but, apparently, not in support of their LGBTQ friends.
A private high school is firing an educator to avoid having its ties cut with the Archdiocese of Indianapolis.
Actor Connor Jessup, who starred in two seasons of ABC's critically acclaimed series "American Crime" and the queer film "Closet Monster," took to Instagram Sunday night to come out as gay.
Territory offer fully cooked meals from local chefs, prepared with insights from nutritionists to ensure what you're getting out of your meal is as bountiful as what's on the plate.
The U.S. Census Bureau is using new high-tech tools to help get an accurate population count next year as its faces challenges tallying people of color who live in remote places and can be wary of the federal government.
Your monthly car payment is not only a ticket to freedom, letting you enjoy summer road trips, but also a lifeline that gets the kids to school and you to work. But if it consumes too much of your budget, that ticket can lead to financial trouble.
Automaker Daimler said Sunday that profits for the second quarter will be hit by troubles with diesel vehicles from its Mercedes-Benz brand and downgraded its earnings forecast for the full year.

As weed has become easier for people to get, it has also become a hazard for dogs.
Elton John, a newly awarded Legion of honor pinned to his suit, joined a call Friday by French President Emmanuel Macron to fund AIDS research and treatment.
A New Orleans po-boy shop featured in "The Simpsons" and a video by Drake is serving up its last sandwiches this summer.
In this column, I'll share some insights from Justin Lehmiller, an esteemed Research Fellow at The Kinsey Institute and author of the book 'Tell Me What You Want: The Science of Sexual Desire.'