Even as studies were showing increases in symptoms of depression and in suicide among adolescents since 2010, some researchers called the concerns overblown. But a new analysis suggests the mental health epidemic affecting the young is all too real.
The science behind 23andMe's new diabetes risk score may provide more questions than answers.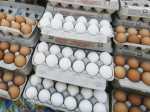 The latest U.S. research on eggs won't go over easy for those can't eat breakfast without them.
Critics of the president's newly-released budget point out that while the Trump administration has vowed to eradicate HIV, that aim is potentially undercut by the very same budget's slashing of money for global AIDS initiatives.
Do you have sleep apnea? These four side effects are often overlooked.
The legislation explicitly recognizes the discrimination that LGBTQ older people face when seeking housing and accessing spaces like senior centers. The bill also acknowledges the higher rates of poverty found among LGBTQ older people.
If you're energetic and confident, enjoy cooking and believe in love at first sight, then new research shows you're probably an early bird.
Dental discount plans are a lesser-known option, used by just 5 percent of patients with private dental benefits, according to the latest survey figures from the National Association of Dental Plans.
This groundbreaking has become a game-changer for many men experiencing ED. Is it right for you? Here's the lowdown on what you need to know.
U.S. health regulators are moving ahead with a plan designed to keep e-cigarettes out of the hands of teenagers by restricting sales of most flavored products in convenience stores and online.