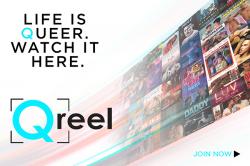 FREE MONTH ON NEW LGBTQ STREAMING PLATFORM QREEL

New Video-on-Demand Platform Qreel Declares "Life is Queer, Watch it Here"

Qreel (http://www.qreel.com) is a new LGBTQ video streaming service dedicated to telling the intricate and compelling stories of our lives, Qreel offers high-quality content for everyone in the Gay, Lesbian, Bisexual, Transgender, and Queer community. From award-winning features to captivating documentaries and progressive short films, Qreel provides a vast and constantly expanding library of queer cinema that will make you love, laugh, cry, think, and celebrate the queer world around you.

"We are so proud to be partnering with NSFW on this exciting new venture", said Rich Wolff, CEO of Breaking Glass Pictures. "Since our beginnings in 2009, Breaking Glass Pictures has been fully committed to the wide spectrum of LGBTQ films. We are always looking for new and creative projects that tell a story and represent every facet of the LGBTQ community. This new venture is poised to be a huge step forward in bringing these stories to a new generation of viewers. Qreel will be the ultimate "go to" streaming site for all things queer."

Qreel is a passion project from the trailblazing and globally-connected film distribution company Breaking Glass Pictures (BGP), and NakedSword Film Works (NSFW), a producer and curator of LGBTQ features and shorts founded by innovative adult entertainment giants NakedSword and Falcon Studios. These pioneering and imaginative companies have come together to provide you with a new way to experience the best in LGBTQ cinema.

"Ever since NakedSword Film Works produced I Want Your Love and we saw the popularity of the NSFW section on NakedSword.com, I wanted to develop a streaming video platform dedicated to offering our community powerful and engaging entertainment," states Tim Valenti, NakedSword Network and Falcon Studios President. "Working with Breaking Glass Pictures on Seed Money: The Story of Chuck Holmes and learning more about their library of content, it was clear that they were a perfect partner to launch this site. Qreel.com is only the beginning. Our vision is to build Qreel into a vast media network and become the best LGBTQ entertainment media distribution service."

Enter to win a free month of full access to Qreel!

Thanks for visiting EDGE!



Enter this contest
If you already have an account with EDGE, all you need to do is log in; we'll pull your address information from your account and simply ask you to verify it. If you do not yet have an account with us, register now! It's easy and free, and you'll never have to type in your personal information again. If you prefer to enter this information manually, you can use the manual entry link below.
Register
Manual Entry
Click here for contest rules.
* Please be aware that creating multiple accounts for the same person will disqualify you.