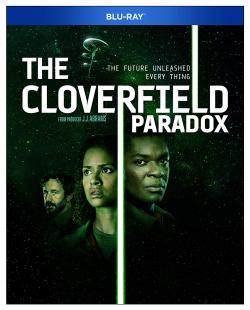 THE CLOVERFIELD PARADOX

On Blu-ray™ and DVD February 5, 2019

Take the ultimate journey into the unknown with the heart-pounding sci-fi thriller THE CLOVERFIELD PARADOX, arriving on Blu-ray and DVD February 5, 2019 from Paramount Home Media Distribution. Featuring over 25 minutes of never-before-seen bonus content including behind-the-scenes interviews with the cast and crew, THE CLOVERFIELD PARADOX Blu-ray and DVD are must-own discs for your collection. The film will also be available as part of the new Cloverfield 3-Movie Collection on Blu-ray and DVD.

THE CLOVERFIELD PARADOX Blu-ray and DVD each include a making of documentary that delves into the inspiration for the story and how the film went from concept and design to completion. The discs also include interviews with the cast as they reflect on the experience of bringing the sci-fi thriller to life.

The third film in producer J.J. Abrams' thrilling Cloverfield franchise, THE CLOVERFIELD PARADOX follows a group of scientists orbiting Earth on the brink of a devastating energy war. They prepare to test a device that could provide unlimited power...or trap them in a terrifying alternate reality. The film features a sensational international cast including Daniel Brühl (Captain America: Civil War), Elizabeth Debicki (Guardians of the Galaxy Vol. 2), Aksel Hennie (Hercules), Gugu Mbatha-Raw (A Wrinkle in Time), Chris O'Dowd ("Get Shorty"), John Ortiz (Silver Linings Playbook), David Oyelowo (Selma), and Ziyi Zhang (Crouching Tiger, Hidden Dragon).

Enter to win!

Thanks for visiting EDGE!
Enter this contest
If you already have an account with EDGE, all you need to do is log in; we'll pull your address information from your account and simply ask you to verify it. If you do not yet have an account with us, register now! It's easy and free, and you'll never have to type in your personal information again. If you prefer to enter this information manually, you can use the manual entry link below.
Register
Manual Entry
Click here for contest rules.
* Please be aware that creating multiple accounts for the same person will disqualify you.