The Screen Actors Guild on Monday called on the film academy to stop trying to prevent stars from appearing on award shows before the Oscars.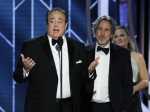 "Green Book" co-writer Nick Vallelonga has apologized for a 2015 tweet about Muslims and 9/11 that has resurfaced a few days after the film won a Golden Globe Award.
"Roma" is the top winner at the Critics' Choice Awards, winning best picture, foreign language film and a pair of individual honors for director Alfonso Cuaron.
Kevin Hart isn't hosting the Oscars, but he's got a number one movie.
History sometimes seems ruled by events with unintended consequences. That certainly is the case with the Mardi Gras Ball at California Hall - an event that's been called 'San Francisco's Stonewall,' a name that's a bit misplaced.
Yalitza Aparicio says her role as Cleo, a domestic worker central to the awards season darling "Roma ," is more personal. It was her mother's profession, and Aparicio says she set out to make it a tribute to her mother and others like her.
The film's atmospherics might avoid creepy cliches, preferring pit-of-the-stomach dread over jump scares or phantasms, but its plotting has a formulaic feel.
Movies like this one are inevitable in times of great existential uncertainty, and a necessary expression of remembrance and defiance.
When a rich quadriplegic hires a witty ex-con as his life auxiliary, they both teach each other "The Upside" of their circumstances.
She first saw the play as a child, when her famous father adapted it from a Henry James novella and played the male lead. Decades later, Vanessa Redgrave acted the role of Miss Tina on stage.