Top Story
Dan McCabe appeared on the Huntington's Wimberly stage as an actor 7 years ago; this week he returns, but this time as a playwright with "The Purists" having its pre...
A trio of Emmy-honored actors are winners again for their guest performances in TV series, joined by an awards newcomer.
Phyllis Newman, a Tony Award-winning Broadway veteran who became the first woman to host "The Tonight Show" before turning her attention to fight for women's health, has died. She was 86.
Ric Ocasek, The Cars frontman whose deadpan vocal delivery and lanky, sunglassed look defined a rock era with chart-topping hits like "Just What I Needed," was discovered dead Sunday afternoon in his Manhattan apartment.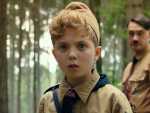 Taika Waititi's Nazi Germany-set satire "Jojo Rabbit" won the People's Choice award Sunday at the Toronto International Film Festival, a prize that has historically been one of the most ironclad predicators of Academy Awards chances.
It wasn't quite enough to take down Pennywise the clown, but Jennifer Lopez and the scheming strippers of "Hustlers" topped even the high expectations they brought to the weekend box office.