1 thru 10 of 2658 Stories
President Donald Trump has a silent partner behind several of the accomplishments he likes to boast about: Barack Obama.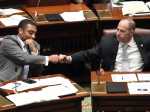 Lawmakers in New York state have voted to eliminate criminal penalties for public possession and use of marijuana after efforts to legalize pot stalled.
Relatives of Hector Lopez, who was fatally shot by Phoenix police in May, say passing officers have laughed and made obscene gestures — a charge the department vehemently denies — during past protests seeking information.
The head of the Bank of England on Friday dismissed suggestions from Boris Johnson, favorite to become Britain's next prime minister, that tariffs on trade with the European Union can be avoided.
The anticipated sweep is expected to be similar to operations that authorities have regularly done since 2003. They often produce hundreds of arrests.
A California Assembly committee backed new rules for vaccination exemptions on Thursday following a raucous, hours-long hearing in the midst of a national measles outbreak and renewed scrutiny of immunization policies.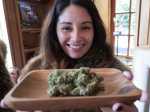 California is planning to intensify its enforcement against the state's thriving illegal marijuana market, including launching an ad campaign Friday that urges consumers to seek out licensed shops with safe products.
Arkansas voters have been active in recent years, passing ballot initiatives that legalized medical marijuana, raised the minimum wage and expanded casino gambling. That hasn't gone over well with Republicans.
President Donald Trump had been given a series of options Thursday night on how to respond to Iran's downing of an unmanned American surveillance drone. His decision point came at the culmination of a tense 24 hours.
The Oregon Capitol will be closed Saturday due to a "possible militia threat" from right-wing protesters as a walkout by Republican lawmakers over landmark climate change legislation drags on.
1 thru 10 of 2658 Stories