1 thru 10 of 3770 Stories
Unsolicited money advice is like stale fruitcake: Most people wish the givers would just keep it to themselves.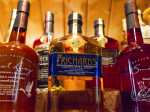 For American whiskey producers, their tariff-induced hangover became more painful in late 2018 when a downturn in exports accelerated, especially in the European Union — the industry's biggest overseas market.
The rising water that has damaged hundreds of homes and been blamed for three deaths has also taken a heavy toll on agriculture, inundating thousands of acres, threatening stockpiled grain and killing livestock.
Former coal miner John Robinson's bills for black lung treatments run $4,000 a month, but the federal fund he depends on to help cover them is being drained of money because of inaction by Congress and the Trump administration.
Contrary to the views of most economists, the Trump administration expects the U.S. economy to keep booming over the next decade on the strength of further tax cuts, reduced regulation and improvements to the nation's infrastructure.
British Prime Minister Theresa May warned Sunday that it would be "a potent symbol of Parliament's collective political failure" if a Brexit delay meant that the U.K. has to take part in May's European elections.
With Britain's departure from the European Union likely to be put on hold, some Brexit supporters fear their dream is dying.
Wisconsin Republicans are decrying a policy that would grant in-state tuition at public colleges to non-U.S. citizens. State Republicans who oppose the measure falsely said the immigrants will get a better deal on tuition than vets.
Japanese entertainment company Sega has cancelled shipments of its video game "Judgment," also known as "Judge Eyes," after one of its actors was arrested on drug charges.
It bills itself as the U.K.'s European university because of its study centers in France, Italy, Belgium and Greece. But now the uncertainty over Brexit is creating anxiety for students at the University of Kent.
1 thru 10 of 3770 Stories